I have spent the last couple of years building up the 23rd Legion without really knowing what I wanted to do with it. The first thought was to pull together a collective of creatives and see where that went. That went pretty much nowhere.
Since I have a history of helping online communities get their feet, the second incarnation was sort of a "one-stop shop" for everything you might need to get your online presence established. That kinda flopped, too, as social media helped make those tools easy peasy for everyone to use. I applauded that and waited for the next pivot.
Then came Red Rising.
(more…)
---
Traveling the infamous Kolyma Highway in the coldest parts of Siberia, Felix Teiglund and his friend Jack Prentiss hope to be able to pull together a documentary film or television series about life in the coldest town on Earth. When they finally arrive the town appears to be uninhabited aside from a mostly catatonic little girl, Una, who their guide recognizes as the child of some of the other missing townspeople. In the process of investigating the empty town, they decide to pack up and take Una to her great grandmother's gas station which is further down the infamous road of bones.
Mr. Golden sets the scene incredibly well, and the isolation and desolation definitely play a great part in this tale of supernatural horror and suspense. Very quickly, the group are confronted by mysterious shadow wolves who attack them: seemingly in an attempt to get to Una. In the process, Teig and Prentiss' guide, Kaskil, is killed, and the party goes on the run to rush away from the town. The thing is, the wolves seem to be keeping up quite handily.
Yup, these folks are in a mess of peril.
The Kolyma Highway is a daunting subject to tackle, and Mr. Golden does it great justice. There is probably no other stretch of highway with such a gruesome history. Stalin had it built to connect his Siberian gulags, and it is estimated that hundreds of thousands of prisoner bodies lie beneath the pavement: a morbid tomb for the poor souls who constructed the 1,262 miles of it.
This novel is all about the futility of survival when the elements — be they natural or even supernatural — are very much not in your favor.
Sure, there are several quite confusing portions of the book, but the story progresses in a manner that very much compelled me to try and find the light at the end of the tunnel. I'll leave it to you to decide if that actually happens. Definitely some great Summer reading.
---
Here's the setup: in the far future of Earth, two factions battle each other for supreme control of the world, the timeline, and, well, everything. Two factions — Commandment and Garden — have their elite agents working clandestine operations throughout the various time threads. Our two characters, Blue and Red are fighting against each other throughout time, while, through a series of secret correspondences, also falling in love with each other. This book has a very heavy Killing Eve meets The Lake House vibe to it.
It does take a bit of time to pull back from how the novel opens — right into the chaos of the aforementioned clandestine operations — and get some bearings on what is actually going on. While this can be off-putting in some situations, it works absolutely perfectly for this tale. The chaos really helps solidify the fantastical uncertainty that forms the foundation of the world we find our two characters dropped into.
I cannot give enough kudos to the creative stylings that Ms. El-Mohtar and Mr. Gladstone throw into this short but masterful piece. Imagine hard science fiction with flowery writings akin to a Victorian romance. But it all works incredibly well!
I will admit, there were sections that I had to read multiple times because I was distracted by my surroundings, and This is How You Lose the Time War is a novel that demands full attention. If your brain wanders, you will get lost.
This book is getting a lot of buzz right now, and I'll admit I picked it up because it seemed to take over my Twitter feed almost overnight. I was not disappointed in the slightest.
---
Since it came on the scene, I have been an unapologetic shoegaze fan. When I discovered Lush in 1990, I knew I had a band that could very easily soundtrack my life. Through the years, I watched the band thrive, break up, deal with crisis, and then excel at other projects. At the core of all of that was Miki Berenyi with her haunting voice and shock of candy red hair. When I discovered she was working on a memoir I could not wait to get my grubby little paws on it.
First and foremost, this is a super personal story, and full of a lot more damage than the fans probably knew well. Ms. Berenyi is amazingly brave to put her life out there because a lot of it is just not easy to read. As an American, I thought I knew what was going on in that era of "my" music in the UK, but I knew absolutely nothing of the machinations that were going on behind the scenes.
Ms. Berenyi speaks at length about her tumultuous childhood, and the very complicated relationship she had with each of her parents — particularly her father — and the horror that her paternal grandmother was.
One thing I absolutely loved is that this book frames the development of Ms. Berenyi's musical career and how it was mostly an unplanned side effect of time and place. The insights into their process as a band, and the inter-band relationships, really floored me, and the discomfort of the process, the perception, and, most importantly, the marketing of Lush was a real eye-opener.
I could go on and on about the interesting happenstances, and the balance between planning and sheer luck, but I really feel like that would detract from the story from the proverbial horse's mouth.
I'm not a biography/memoir fan, but there are certain exceptions from extraordinary people that I just can't ignore. If you were aware of the 90's music scene in the UK, you definitely owe it to yourself to pick up this very genuine, and very raw, insight into a woman who was navigating the inside of the entire thing.
---
Ahhh carefree and fun books just for the sake of having something original to read. Minimum Wage Magic has some heavy themes, but, at the end of the day, it's just a very fun romp through an awesome world of magic and vice.
The basic gist is the that the Detroit Free Zone is a lawless city where the god of the city (the aforementioned DFZ) ensures that everyone is free to do as they will. Opal Yong-ae is a local cleaner — someone who bids on abandoned properties, and then sells the stuff she finds to get the property ready for the next tennant — and a girl on a mission. She's racing frantically to pay off her father in order to get out of debt with him and break free from her family.
Here's the thing. Opal's father is the Dragon of Korea. Either way, Opal owes him a sizable chunk of money, and she's just stumbled on what could be her biggest score. What happens next is a roller coaster of and adventure with so many little gems of creativity and masterful story-crafting.
One of the most fun things about this book — and I can tell it's going to be a theme of the series — is the nigh anarchistic chaos surrounding life in the DFZ. Ms. Aaron masterfully throws in some lithe details about life in the DFZ that downright make you think about how it would be in a world with no rules. That coupled with some very memorable characters and an incessantly chatty AI make Minimum Wage Dragons just a joy to read.
I'm sure I'll devour the next two as quickly as I did this one.
---
Erin is haunted, and it is by choice.
If that seems rather innocuous to you, then you have yet to dive into Clay McLeod Chapman's latest gem: Ghost Eaters.
Stripping the romanticism and fantastical glamour out of the concept of interactions with the supernatural, and, instead, diving right into every worst part of addition, loss, despair, and not the best kind of self-discovery.
Ghost Eaters is about desperation, and, while the irony of not being able to put down a drug-centric book was not lost on me, it is not a pretty tale.
The story centers around Erin, a girl with a few dreams, and some lofty plans to get her life where she wants it to be. The problem with Erin is that she is enthralled by her college ex: Silas. Silas is a dreamer, an addict, and a wandering soul. Silas, however, holds heavy influence over Erin, and — possibly more importantly — their mutual friend Tobias.
Slight spoiler alert: Silas dies, and then the insanity begins.
In her grief in trying to figure out just how she can find some closure with his death, Erin will do just about anything to close the book on Silas. Enter Tobias and Ghost: a drug that Silas and Tobias had been "working on" to see the dead.
Let's just say things get worse from there.
One of the things that I love about Mr. Chapman's stories is something that actually somewhat annoys me with many other authors: things are not tidy. Much like real life, not all storylines are cleanly wrapped up in a bow, and, for me, this really gives his worlds a more realistic tint. With Ghost Eaters this approach really focuses the madness and decent into Erin's chaotic spiral. I have described this book to friends as "Haunted Trainspotting," and I feel that there is a kinship in the portrayals of addiction that are compelling as well as repellent.
Progressing through Ghost Eaters made more more and more itchy. Yeah, it's that visceral.
I enjoyed the worldbuilding in this novel because it rides a fine line between being placed in the very concrete space of Richmond, Virginia, while also straddling a liminal space of filth and madness.
Yes, it's horror, but it is also social commentary, and one of the best damn books you could pick up this year. As usual, Mr. Chapman's mind has spun up a world that I'd rather not live in, but I sure as hell enjoyed visiting it.
---
After three books and much experimentation, I believe I have figured out the secret to full comprehension of The Locked Tomb series: just let it flow over you. Enjoy the ride and do be sure to keep your arms and legs inside the vehicle at all times.
OK, here we go with the story of Nona.
First we had Gideon, and then we got to ride the roller-coaster with Harrowhark. Now we have a much harsher world with a much softer protagonist: Nona.
Nona's life is relatively simple. She loves her family, longs for an elaborate birthday party full of dogs, and loves her job as teacher's assistant at the local school. Did I mention her love of dogs?
The thing is, Nona is about six months old, and doesn't belong in the body she is inhabiting. In addition, Nona doesn't really like to eat (unless you consider the mild case of pica she constantly conceals), and doesn't really know much about dealing with things on her own. I'd say Nona was simple, but she is oh so far from that.
If you are familiar with the works of Ms. Muir (and you bloody well should be if you are reading Nona the Ninth), you are familiar with the cool ride through chaos that seems to be her specialty. While focusing on a passel of semi-shifted main characters throughout the series (maybe), Ms. Muir takes every opportunity to absolutely explode each world she elaborately builds up. I find it masterful.
Like I said in the beginning, the best way to enjoy these books is to just lean back and embrace the chaos.
What struck me as most amazing in my jaunt through Nona the Ninth is how normal Nona's life tries to be. Zombies are coming back, there is a giant blue sphere hanging on the horizon, the city is in shambles, and Nona wants to go swimming.
Running along side the primary story is the story of John: the reason everything is the way it is now. I'd go into that, but it's much more fun to watch it reveal itself without explanation.
The single thing that I did not like was something that was totally on me and not Ms. Muir. I did not realize that this series had been stretched to four books, so I was getting very very confused as I approached what I perceived as the end of the series, with so much left unresolved. My brain spent a good amount of time spinning possible conclusions as the page count dwindled, only to learn, elsewhere, that a fourth book was incoming. You can imagine my relief.
Now the waiting begins (again).
---
** This book was provided to me by NetGalley in exchange for a fair and honest review **
I feel like I have to preface this review by saying that I really really really liked this book, and cannot wait for it to get into other peoples' hands. I'm worried this review might sound more critical than I intended, but that would definitely be the way of Emily Wilde.
Emily Wilde is, at her very core, an academic. It is her belief that introducing possibly leading variables such as compassion, friendliness, interaction, or even social niceties into potential research could sully said research. Emily, above all, is very pragmatic and meticulous in her approach to the research of the ways and stories of the faerie folk, and that is what makes her so good at her work.
With this approach, Emily sets out from Cambridge to the Scandinavian village of Hrafnsvik to investigate a variety of faerie folk who have remained unobserved by academia. To her chagrin, her academic rival, the dashing and quaint Wendell Bambleby follows close behind her to "help" with her efforts to study these faerie.
Emily's tale is, ultimately, a tale of discovery: not just of the fae she seeks, but also of many of the things she has rather pushed aside in her life.
Presented as an academic diary of sorts, Emily Wilde's Encyclopaedia of Faeries starts off very rote and academic. There is an easy cadence to fall into, and a whole heck of a lot of information that gives the reader a lot of insight into how Emily thinks and operates.
As the crazy story progresses, Emily's academic endeavors begin to uncover new knowledge that justifies Emily's reason for traveling to this northern village in the first place. As situations uncover, Emily discovers that letting her guard down not only makes things easier for her in the village, but also opens research opportunities that were previously kept from her by the residents of the village.
Hilarity ensues, and we end up with a very different Emily than when the book started.
As a huge fan of world building and character development, Ms. Fawcett does a wonderful job of setting the scene. Writing from the viewpoint of a highly detailed academic, Ms. Fawcett takes advantage of being able to describe people, settings, and situations very bluntly, and with almost rude descriptors. I found it a very refreshing mechanism that you just don't see used that often these days.
Story progression moves very quickly, but not in such a way that sacrifices detail. The use of footnotes adds to the academic charm, and, in the end, I found myself dratting that the sequel wasn't shortly behind. Hell, this book won't even hit shelves until January 2023!
If you are a fan of the faerie folk, historical fiction, semi-academic romance, or even if you just need a change of pace, definitely put Emily Wilde's Encyclopaedia of Faeries on your 2023 reading list. You won't regret it.
---
Typically I meander about a review before letting you know that it's a good read or something worth passing. With Legends & Lattes, however, I'm just going to come straight out and tell you to put down whatever you are reading and pick this one up. Yes, you heard me, and do so immediately.
This tale mixes bits of High Fantasy with an amalgamation of fanciful engineering, slow-burn romance, self-discovery, and the building of a family-like community. All of that together makes for one of the most refreshing and fun books I've read in a very long time.
Viv is an orc barbarian who is tired of the warrior life and what it entails. Having fallen in love with the mystery of coffee (widely unknown), she decides to cash in her fortunes and open a coffee shop in Thune. Bolstered by almost supernatural luck, Viv quickly begins to pull new friends into her business, and life, and her dreams begin to become reality.
There is a lot more that transpires in this relatively short gem of a novel, but I do so hate spoiling things for potential readers.
What strikes me the most about Legends & Lattes is the absolute ease with which Mr. Baldree slides us all into Viv's world and the mechanics of Thune. There are wonderful aspects of discovery since Viv is, herself, new to town, and that is leveraged in my favorite way to progress the worldbuilding. While there are just a few very serious moments in this novel, it is the lightness and humor that pulls the reader along. Every character introduced provides their own little brand of sparkle, and the wide variety of personalities are what really bring the brightest shine to the story.
Like I said at the beginning, this is an absolute must read for me. Pouring through this made me realize that I have a very heavy diet of gritty High Fantasy, Space Opera, and Grimdark; and not enough light fare in my library. All of those are very relevant, and a delight to dive deep into, but sometimes something light and poppy fits the bill perfectly. Legends & Lattes is definitely that pop.
---
** This book was provided to me by NetGalley in exchange for a fair and honest review **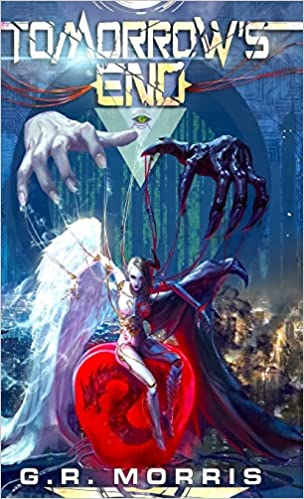 Oh how I wanted to DNF this thing. The start was riveting: all action, mystery, and a smattering of arcane magic, but then that ended. What came next was an attempt at a science fiction-oriented treatise on philosophy, religion, and free will. Sure it was coupled with demons, aliens, mysterious super powers and global threats, but, for me, it was just a slog.
Tomorrow's End is not particularly hard to follow. There are two seemingly main stories once you get past the intro. Kevin Knight is an abused teenager who is afraid of the dark, and, surprisingly, being groomed to be the savior of Earth. On the other side there is the super-mysterious orphan Daren who has amazing powers, aged up incredibly quickly, and is squashed by more demonic masterminds (or maybe the same… you decide).
Their stories almost run in parallel, but are disjointed enough to have a "where is this going?" vibe.
The main focus is on Kevin, and his reluctance to take on the role he is destined for. Cue all the free will, moral philosophy and good versus evil lectures and diatribes. I get that the author was trying to hammer the idea home in several of the presented aspects and power dynamics, but, for me, it was much more of a distraction than anything else.
I'll give Mr. Morris credit for the invasion and action scenes. They were fantastically choreographed, and rolled out a ton of alien tech and demonic gore. Again, they leaned heavily on the forced morality of the novel's theme, but they were still stupid fun.
All-in-all, this one is a hard pass for me. Sure, the second book may clear up the bulk of the "WTF" moments I had towards the end of this one, but there weren't any real firm hooks to get me to make the attempt. For me, the cover and blurb had me completely pulled in, but the text just didn't deliver.
---
Dragonlance is back! Yes, after about a dozen years with no adventures in Krynn, the OG authors, Ms. Weis and Mr. Hickman are back at it with the original cast of characters that made so many fantasy fans fall in love with this massive series.
The book opens with young Destina Rosethorn living a spoiled existence lamenting the fact that she cannot become a knight, yet safe in the knowledge that, adored by her father, will inherit Rosethorn Castle and continue to live a life that she has become accustomed to .
Sadly, Destina's father dies in the War of the Lance, and Destina's world is turned upside down. She loses the castle due to a lack of a will, her wealthy fiance leaves her, and she is left basically destitute.
Undaunted, Destina decides that she will simply find the Device of Time Journeying, travel back to the War of the Lance, and make sure that her father does not die. That will fix everything that has gone horribly wrong.
So Destina sets out to find the last known holder of the Device of Time Journeying: a Hero of the Lance named Tasselhoff Burrfoot. Yep, the very same Tasselhoff Burrfoot who has been getting into fantastical scrapes for just about forty years.
As luck will have it, Destina finds Tas, as well as quite a few other Heroes of the Lance. Let's just say the hijinks really take off from there.
I was overjoyed to be able to immerse myself back into the rich history of the Dragonlance universe. It has been far too long, but these beloved characters just slide right back into the normal swing of jabs, barbs, and general mirth like they have for most of my fantasy-reading life.
I'd address worldbuilding, but there's really no need. To say that the Dragonlance universe is well fleshed out is an understatement. My real excitement in new novel material is the potential for new gaming materials. Having Dragonlance in proper Dungeons & Dragons 5e (or maybe One D&D) is a pretty nifty prospect.
My one complaint about Dragons of Deceit is Destina. I know, ultimately, that she is the driving plot device, but, boy howdy is she impetuous and annoying a lot of the time. Rather than be open about what she is trying to do, she skulks around, misleads, and even downright lies her way into situations that just didn't need to happen that way. I am very much hoping, in book two or book three, that she has an epiphany allowing her to see that she can rely on others to help her. I have pretty strong feelings about her approach, so I guess the authors did something right in that regard.
At the end of the day, I'm still very very excited that there is new Dragonlance, and I really hope this new content is just the start of a whole slew of new novels. The subtle and very well-played re-working of the original timeline (especially since it is being done by the original authors) might just be the little tweak needed to introduce these amazing characters and worlds to a new generation of fantasy readers. We shall see.
---