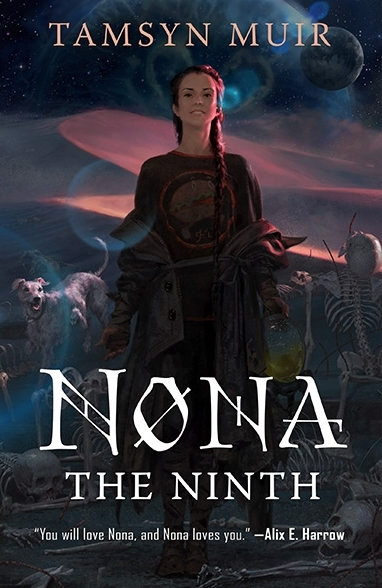 After three books and much experimentation, I believe I have figured out the secret to full comprehension of The Locked Tomb series: just let it flow over you. Enjoy the ride and do be sure to keep your arms and legs inside the vehicle at all times.
OK, here we go with the story of Nona.
First we had Gideon, and then we got to ride the roller-coaster with Harrowhark. Now we have a much harsher world with a much softer protagonist: Nona.
Nona's life is relatively simple. She loves her family, longs for an elaborate birthday party full of dogs, and loves her job as teacher's assistant at the local school. Did I mention her love of dogs?
The thing is, Nona is about six months old, and doesn't belong in the body she is inhabiting. In addition, Nona doesn't really like to eat (unless you consider the mild case of pica she constantly conceals), and doesn't really know much about dealing with things on her own. I'd say Nona was simple, but she is oh so far from that.
If you are familiar with the works of Ms. Muir (and you bloody well should be if you are reading Nona the Ninth), you are familiar with the cool ride through chaos that seems to be her specialty. While focusing on a passel of semi-shifted main characters throughout the series (maybe), Ms. Muir takes every opportunity to absolutely explode each world she elaborately builds up. I find it masterful.
Like I said in the beginning, the best way to enjoy these books is to just lean back and embrace the chaos.
What struck me as most amazing in my jaunt through Nona the Ninth is how normal Nona's life tries to be. Zombies are coming back, there is a giant blue sphere hanging on the horizon, the city is in shambles, and Nona wants to go swimming.
Running along side the primary story is the story of John: the reason everything is the way it is now. I'd go into that, but it's much more fun to watch it reveal itself without explanation.
The single thing that I did not like was something that was totally on me and not Ms. Muir. I did not realize that this series had been stretched to four books, so I was getting very very confused as I approached what I perceived as the end of the series, with so much left unresolved. My brain spent a good amount of time spinning possible conclusions as the page count dwindled, only to learn, elsewhere, that a fourth book was incoming. You can imagine my relief.
Now the waiting begins (again).