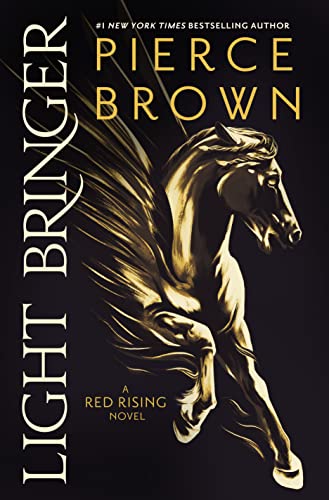 Howler #1 (Mr. Brown) is a sadistic psychopath, an emotional puppet master, and a genius storyteller. Once again we have been thrown into the tumultuous world of the Society and, boy oh boy, this is one hell of a ride.
If you haven't read the previous five books, don't even think about starting with this one. Go back and suffer like all the rest of us.
Light Bringer brings a slightly different approach to the series. By now, things have gotten beyond serious, and Dark Age left us all in quite an interesting place. Volsung Fá and the Ascomanni are a serious threat along with all of the regular cast of power-thirsty warlords, and a large chunk of the Republic aren't even sure if their savior, Darrow (and Sevro, by extension), is even alive.
I do have to say that a swath of the first part of Light Bringer was rather slow compared to what we are used to, but quite necessary. This book, more than the others, sets more of the political intrigue and process up as we are rounding the corner to the end of the series. Lysander is back and has machinations on where he fits into the political sphere: especially considering his fiancee, Atalantia au Grimmus, seems to be trying to kill him at every step.
I'm not going to spoil this one, but there is a little bit of something for all the typical Red Rising fans, and a whole lot of material that will be debated until Red God comes out. And, boy howdy, there is a ton of controversy scattered throughout.